A few kind words from our wonderful couples so far...
ABSOLUTELY AMAZING! 100% Recommend, all the staff are lovely and we couldn't have thanked Sara and Dawn any more for everything they did for us especially with having to move our date twice due to Covid. Best wedding venue around!
Megan Ward
We have recently had our wedding here at the end of August and it was amazing! The setting and facilities are brilliant and everyone loved it.
Sara and Dawn are great and know exactly what to do and what is needed even when you ask them silly questions.

Our wedding was pushed back a year and Sara couldn't have been any better at re organising the date exactly a year on which was greatly appreciated.
We would recommend this venue to anyone that asks as we had the best day, it couldn't have been any better!

Any party or venue needed for the future we will be back!

Thank you, Lucy & mike xx
Lucy Bannister
The most amazing venue owned by the most amazing family, there were so many comments made throughout the day about how beautiful it all was, I'm so glad we came to that open day nearly 3 years ago! We will be forever grateful to you all for making our day so incredibly special & both our families cannot speak highly enough of you, thank you so so much ♥️♥️♥️
Beckie Atton
Me and my now husband couldn't have wished for a better venue to celebrate our marriage at. Sara and Dawn have been incredible the whole way through and listened to everything we wanted and more! Cherished memories is a beautiful place with amazing views and the most amazing cocktails 😍
They couldn't have made booking, cancelling and replanning a wedding throughout a global pandemic any easier.
Thank you both so much 🤍💍xx
Laura Marsden
The best place me and my wife could of wished for! Beautiful venue incredible staff that went that extra mile! Outstanding 10/10. ☺️
Jordan Stead
So this is a little late but we wanted to say how great this venue was for our special day on 17th July 2021. As soon as we saw the venue we were booking! Dawn and Sara were great as we threw quite a challenge at them with throwing a mini festival for our day. They help with everything was great albeit new and challenging with it being the first time they had done anything like this. They were so accommodating to all that we needed. The venue provided so much space for all our facilities and extras that we wanted. I would recommend this venue to anyone for any type of special occasion, wedding, birthdays or christening, etc. It was a truly great day and great wedding eve night as we stayed at this venue for 2 nights ( in tents, campervans and glamping tents). It was such a good venue and day, people are still talking about it 4 months on!! Truly Amazing!! Love Mrs & Mrs Barber x
Mrs & Mrs Barber
I would like to thank the team at cherished memories for making our day amazing. Dawn is a great host and worked very carefully to make sure all our needs were met. The venue its self is beautiful and offers some of the best views for photos. Dawn really has an eye for details and makes planning a wedding easy. Ian made sure everything was set up correctly and in perfect timing. We couldn't have asked for anything else. What a beautiful day
Aaron Lyons
What a place!! We searched high and low to find a perfect Venue. And we found it 5 minutes away from our house. Dawn and Ian are fabulous hosts and along with all of the staff can't do enough to help. We were able to create our perfect day at Cherished Memories. We would also like to mention the delicious wedding breakfast which was provided by County Caterers as part of our package. All our guests have commented on how amazing everything was. The cocktails went down a treat. Thank you for helping us create our cherished memories. Xx
Hollie Goodall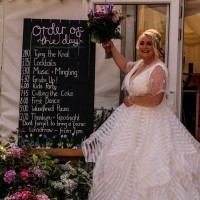 Cherished Memories is the perfect venue to host your wedding reception - big or small! Ours, in July 2018, was BIG, super-BIG, think 250 day guests and another 60 at night'!There were only a handful of local venues that could deal with our numbers but we are certain we picked the best! On the day the 60 children there 😳 had acres of secure space to run free, we had a giant bouncy slide and castle, room to put up craft tents, chill out zones and even a pizza oven in the evening. A posh picnic hamper dinner, a selection of cocktail ice-pops and a fab live band completed the rustic / festival feel. The Moody Mare kept our guests plied with amazing cocktails too. We didn't use a wedding planner so for such a big event Dawn's help was invaluable. Give yourselves the opportunity to create your own amazing memories by getting in touch with the team at Cherished Memories. The post-wedding feedback from our friends and family say it all - "the best wedding I've ever been to", "amazing attention to detail", "such a relaxed and fun day", "what a joyous occasion", "you'd thought of everything and everyone" and "wow - what a venue!"
Lisa Marie Godfrey
We had our wedding day here last weekend and it was perfect from start to finish.
The venue is just stunning we were delighted with everything Dawn & her team did.
All our guests commented on how beautiful and perfect the day was we couldn't have asked for anything more.
Thank you guys from the bottom of our hearts you made us feel so welcome and at home x
Rebecca Riley
We are planning our wedding with Dawn at her gorgeous home, and so far I'm loving every minute of planning it with her.

I can't wait to see what ideas she has for our magical day!

I am so looking forward to sharing my day with you and your team, as I know they will be a big help to make it a fantastic day for Michael & me!
Kassy Carpenter
We used Cherished Memories for our wedding and they made sure it was everything we'd dreamed of. From the moment we first visited the venue, it felt like we'd found our perfect wedding venue.

The proprietors, Dawn and Ian, were so accommodating and were always available to answer any queries and help us with decisions. We chose to have four tepees, to accommodate the large number of guests, and they fitted easily on the lush, green lawn. Cherished Memories had sourced everything for us, from the luxury toilets, to the generator and internal decorations.

Come the big day, the place looked amazing. Every little details had been considered. The grass and hedges were trimmed, the driveway had been swept, which looked even better in the bright sunshine we were blessed with. From the moment we arrived at Balne Croft Farm, the event went like clockwork. We had our wedding breakfast, speeches and then some lawn games before doing the professional photographs in the early evening when the light was a little bit softer. Our evening entertainment was a fantastic live band (The Revs) and we had a BBQ in between their sets as the sun went down.

Cherished Memories helped make our special day perfect. From the moment of booking, to the big day itself, every little detail was considered and taken care of. We can't recommend them highly enough. A truly professional team that gave us cherished memories of our own.
Ian & Jamie Marsh, Barnsley, South Yorkshire